August 23, 2021
NDP2021 Volunteering: Bringing NDP Celebrations to Nursing Homes and Community Hospitals for the Second Year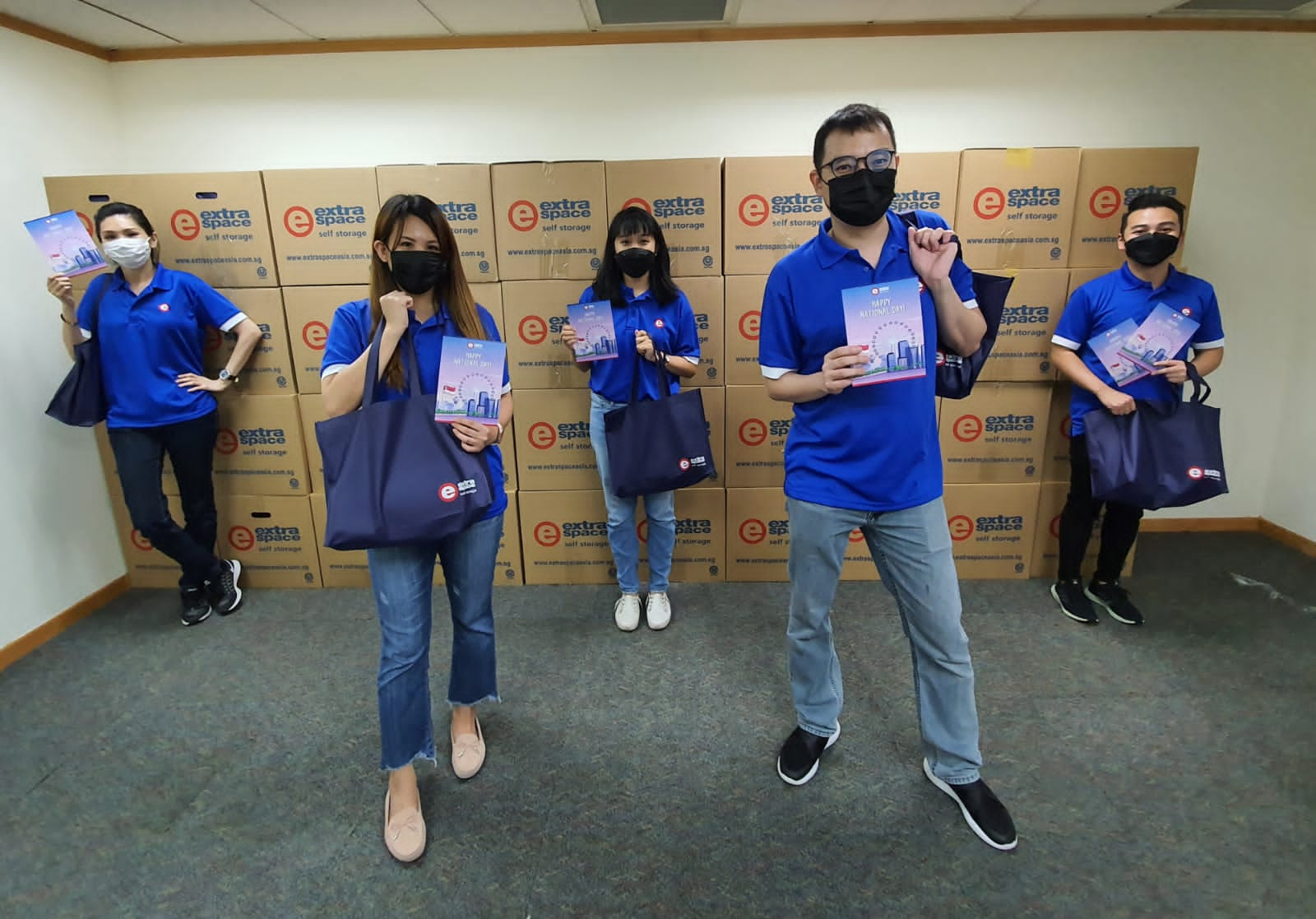 An

ExtraSpaceCares

initiative
Singapore's National Day is definitely an event which brings all Singaporeans from different backgrounds and cultures together. However, with the on-going COVID-19 situation, NDP will be conducted in a safe way where Singaporeans will be celebrating our nation's 56th birthday safely from our homes instead. To keep the spirit of National Day alive, Extra Space Asia Self Storage has once again partnered with Singapore-based social enterprise ACE Seniors in a national movement of bringing National Day celebrations to 60 nursing homes and community hospitals by 2030. This also marks our second year in collaboration with ACE Seniors in this meaningful movement.
Similar to last year, Extra Space Asia sponsored 650 care packs and specially prepared meals for our friends at Peacehaven Nursing Home and Lion's Home for the Elders. Extra Space Asia staff also came together to sort, pack and deliver the care packs and meals to each beneficiary, ensuring that the elders were able to join in the National Day celebration safely from their homes. Each of them received an eco-friendly reusable Extra Space Asia tote bag that packed with a variety of food and hygiene products.
Through this purposeful volunteering initiative, Extra Space Asia hopes to  be able to bring cheer and joy to our elderly friends on our nation's birthday.
Peacehaven Nursing Home is a home that offers a comprehensive gamut of services to care for the sick, frail and elderly who have physical or mental disabilities with minimal or no appropriate caregiver support at home.  Lion's Home for the Elders is a Voluntary Welfare Organisation (VWO) that actively promotes and employs best practices in providing services and programmes for the ageing community.
From the Extra Space Asia team, we hope that you and your loved ones are staying safe and healthy!
Image: Extra Space Asia staff sorting and packing the NDP care packs for our beneficiaries.
Image: The NDP care packs are specially curated according to the needs of our beneficiaries at the various homes.
Image: Extra Space Asia's customised NDP greeting postcard with our well wishes to our beneficiaries.
Image: Extra Space Asia staff giving thumbs up after packing 650 care packs.
Image: Extra Space Asia Team loading the special care packs to be sent to the beneficiaries at Peacehaven Nursing Home and Lion's Home for the Elders.
Image: Sending our special care packs to our friends at Peacehaven Nursing Home.
Image: Our friends at Lions Home for The Elders receiving the specially baked NDP cake.
Image: ACE Singapore presenting a token of appreciation to Extra Space Asia's CEO, Mr Kenneth.